New technology and a business model that will change the jewelry industry
‐Aiming to be the best in the world through creativity and innovation‐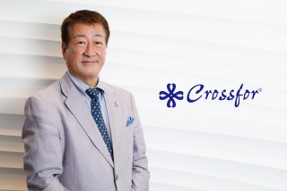 A new problem-solving product born from a word with his wife
―What kind of product is EXL-LOCK?
EXL-LOCK is a fastener for bracelets and necklaces. Traditionally referred to as spring rings, most metal fittings of this nature require the hook to be inserted from the side, which takes a lot of time when fastening bracelets with one hand and proves challenging for people with long nails. However, the EXL-LOCK we've developed is designed to sandwich the jewelry ring from the top and bottom, making it easy to clip together using one hand without the worry of damaging your nails. We're also mindful of the product's appearance, choosing to feature a simple shape that does not clash with the jewelry's design.
―Many people probably felt that it was difficult to fasten the metal fittings on bracelets and necklaces, so this is quite revolutionary. Tell me what went into the development of EXL-LOCK.
The idea blossomed from a casual conversation with my wife. My wife likes jewelry, but she didn't wear bracelets. When I asked why, she said "it's because bracelets are difficult to put on with one hand." Of course, no matter how nice a bracelet is, you won't be able to use it if it's hard to fasten, and I realized that people all over the world might be having the same problem. From there, we began developing "a beautiful metal fitting that anyone can easily fasten with one hand," which was completed and announced in June 2019. Naturally, it is easy to put on, but the clasp is also a double lock that grips the ring from above and below, making it a durable structure that is hard to lose and will not come off even if pulled. Its inconspicuous design allows you to use it on simple necklaces without worry. I am grateful to my wife for giving me the chance to develop it.
An overseas strategy that aims to collaborate with brands around the world
―EXL-LOCK was announced in June 2019, then commercialized in October that same year, and it seems that the number of products will gradually increase moving forward. How is the reaction from manufacturing companies?
Thankfully, we receive orders not only from domestic companies but also from overseas companies, such as major brands in India and the United States. It has been especially promising in regions like the United States and Asia, where affordable, lightweight, and fashionable pieces are preferred. The Japanese jewelry and accessories retail market is worth about 900 billion yen, but it is said that the overseas market will be about 60 times that of Japan, reaching around 50 trillion yen. So, we can expect significant growth in the future. In anticipation of an increased number of orders, we have a production system in place with a partner factory in Thailand. With the experience I've gained so far, I believe that we can solve the problems of customers all over the world and create business in a good way.
―How do you plan to develop EXL-LOCK in the future?
We are currently developing decorations for the EXL-LOCK itself. For example, you can enjoy the clasp as its own accessory by attaching cute charms, such as butterflies, ladybugs, and bees. It would blend in as part of the necklace's design or you can use the EXL-LOCK as a pendant, transforming it into an accessory that doesn't appear to have a jewelry fastener at first glance. It's easy to attach and you'll be able to create new fashion styles like never before. We will continue to manufacture and sell OEM products to meet the needs and requests of various companies. EXL-LOCK plays a supporting role in the creation of jewelry and accessories, so I would like many companies to use it if there is a need, whether they are a fast fashion brand or a luxury brand.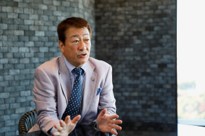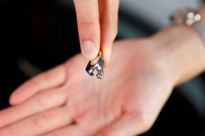 ―Is there a possibility that you will create a product line utilizing EXL-LOCK for an in-house brand?
No, this would result in us competing with other brands, so we will stick to providing our materials and know-how. Our way of thinking is not about "creating a rival to fight." Instead, we believe it is ideal to craft quality products and collaborate with many companies to build a win-win relationship. We want to hand over our materials, commercialization ideas and expertise so that they can be utilized to strengthen each company's brand. I think EXL-LOCK will be very useful for this initiative, and if we can collaborate with brands all over the world, it will elevate the jewelry and accessories industry as a whole.
The origin behind Crossfor's unique innovation
―Where did the idea of selling your own expertise and expanding your business without creating competition come from?
It comes from my experience with our main offering, the Crossfor Cut. When I invented the Crossfor Cut, I attempted to launch a brand, but at that time, I realized that this act would turn other brands into rivals. Instead of challenging world-famous brands head-on, we chose to coexist with the others by having them purchase Crossfor Cut stones to make their products.
―You then established a royalty-based business with the "Dancing Stone®" that you invented afterwards, right?
In Japan, we manufacture and sell finished products on an OEM basis. On the other hand, our business model overseas collects royalty fees for supplying manufacturing expertise and parts. This has enabled our customers around the world to produce Dancing Stone®, which has now become our main business nine years after its inception.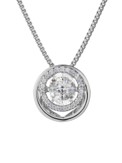 ―Regarding EXL-LOCK, how much growth can you expect from royalties?
EXL-LOCK has more potential than Dancing Stone®. Dancing Stone® is like an actor on a stage; both a companion and a rival to the other actors (brands). EXL-LOCK, on the other hand, works behind the scenes. It supports all colleagues whether they are a rival or an ally, and above all, the scene cannot be set without backstage assistance. If actors from all over the world adopt this useful stagehand, they will have more opportunities to expand the playing field and acquire a huge chunk of the market. If we can get the 240 companies that have contracted us for Dancing Stone® to begin using EXL-LOCK, we can share a large global market where the demand for EXL-LOCK will increase as more accessories are sold. If EXL-LOCK becomes more mainstream, we will be able to expand our market share even further.
―Crossfor has already been granted patents for the Crossfor Cut and Dancing Stone®. What is the secret to your company's development capabilities and creativity?
There are two ways of thinking when it comes to making new things. One is "creating something that is completely nonexistent" and the other is "improving an inconvenience." EXL-LOCK is the latter. If we can solve problems based on these two ideas, I think it will be accepted by people all over the world. Day after day, I myself try to think about these things sensibly, but we have also adopted "improvement proposals" at our company, so that employees can improve their own ability to perceive and think creatively. It is a system that allows you to express any idea with ease should you devise ways to clean the company, think of a design like EXL-LOCK and so on. Any employee can participate. We announce the proposal ideas every week and give out a reward to those that are eligible. In fact, the idea of decorating the EXL-LOCK itself actually came from an improvement proposal.
Aiming to have the No. 1 share in the world based on expertise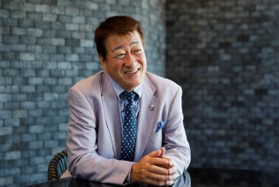 ―I feel that your company has an excellent ability to shape new ideas, but what is the source of that?
Perhaps it is the "never give up" mindset that I convey to employees each day. It is not just persevering to accomplish something instead of giving up; it means believing in yourself and doing your best each day while sparing no effort. Ideas and excellent products don't suddenly spring up one day. As Edison said, "genius is 1% inspiration and 99% perspiration," so you are bound to succeed by holding on to your dreams. As long as you have a dream, you can hang on to it without giving up even if your heart is about to break. Another important thing is "do not run away after selling." The idea is not to make something to sell and be done with it, but to clarify the reason behind selling it and identify areas of improvements, so that we can work together with customers to create the future. The efforts from this three-legged race will create a relationship of trust that I think we can build upon. I am looking forward to a long relationship, so I can't be making sloppy things.
―You were listed on the JASDAQ in 2017, but I think there have been many paths leading up to this point.
It has been about 40 years since we were founded as Dobashi Jewelry Trading, and we've survived economic booms and bubble bursts. While flying around the world, I learned many things and now I'm here. I experienced both good and bad times, which have made me stronger. It's having the mentality that things will work out it in the end. By the way, the company name, Crossfor, comes from the Crossfor Cut which was invented in 1999, but its origin meaning is "cross for you" = "love for you." We believe that corporate profit is just "thank you" returned as money. In other words, it is linked to how much trouble was solved. If this gratitude is spread all over the world, wouldn't everyone be happy?
―Finally, please tell us about your outlook for the future.
In October 2019, we formed a business alliance with Nihon Seimitsu Co., Ltd., a publicly listed company that manufactures and sells watch bands and eyeglass frames. We aim to launch jointly developed products within a year. From that point forward, our goal is to be No. 1 in the industry with the expertise we have cultivated so far, focusing on the three pillars of Dancing Stone®, tennis chains and EXL-LOCK. The global market for jewelry fittings is said to be about 200 billion yen, so we intend to gain a 10% share of 20 billion yen by 2024 and an 80% share by 2034. We are grateful for everyone's constant support and we will continue to push forward.